This was my first trip to the Origin's Game Fair in Columbus Ohio.  This convention is smaller than GenCon with fewer exhibitors and much wider asile space in the exhibit hall.  There were many great demo spaces for trying out games.  I went for just Saturday during the day.
I didn't attend any scheduled events; to be fair,  I didn't do a lot of research on what seminars were available, but the whole convention felt more like a place to play games rather than buy games or attend paid seminars. Origins definitely had less of a commercial vibe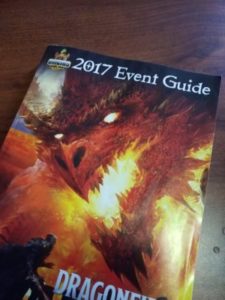 .
I found it quite nice to have an exhibit hall that I could explore and feel like I saw everything that I wanted to see.  I left Origins with a feeling that I had seen what was there and I didn't have any underlying concern that I had missed a vendor or missed out on seeing a game and that was a nice feeling.
I didn't I didn't stay in a hotel and since I only went one day I don't have a good price comparison between Gen Con and Origins. I would attend Origins again it was a lot of fun with a lot less pressure and people and crowds.